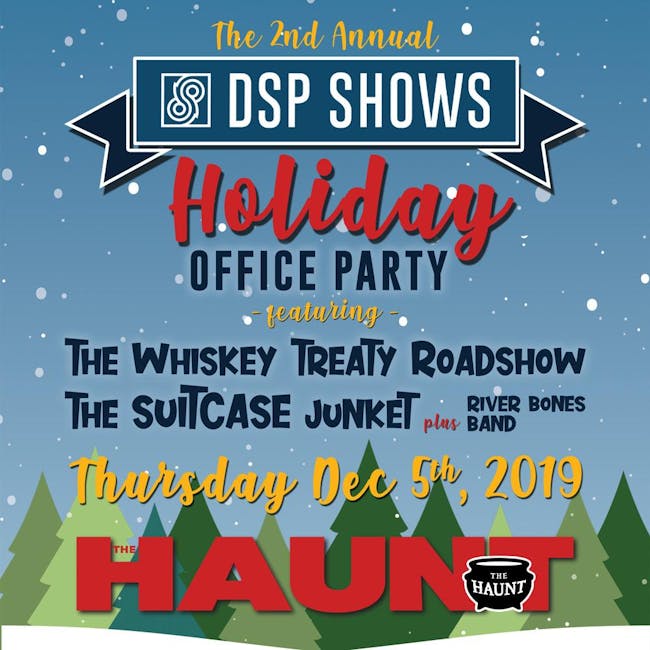 DSP Shows' 2nd Annual Holiday Office Party
The Whiskey Treaty Roadshow, The Suitcase Junket, River Bones Band
DSP Shows' 2nd Annual Holiday Office Party ft. The Whiskey Treaty Roadshow, The Suitcase Junket, & River Bones Band at The Haunt: Ithaca, NY
We here at DSP Shows headquarters are throwing our 2nd Annual Holiday Office Party and everyone is invited! Join us for a night of great music from The Whiskey Treaty Roadshow, The Suitcase Junket, and more TBD! Come for an epic hang with all of the great people who help make music thrive in Ithaca and beyond.
RVSP on Eventbrite or Facebook.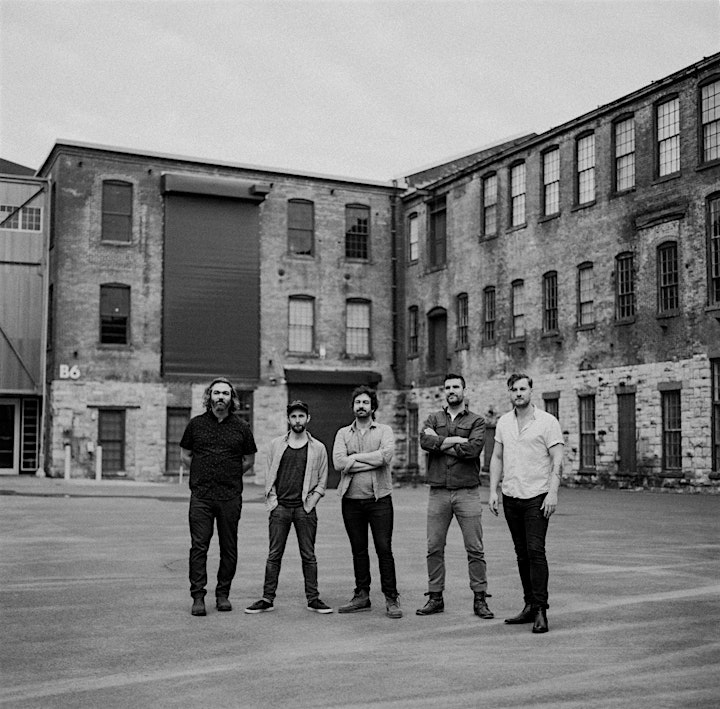 Boot stomping, folk rock sing-a-longs that tran¬scend a genre, The Whiskey Treaty Roadshow is a collaborative band which brings together five Massachusetts singer-songwriters in the vein of Americana, Rock, and Roots-Folk music. The Whiskey Treaty Roadshow have proven they can bring a party to whatever festival line-up they grace and pump up the energy of any room. With spots alongside Young the Giant and X Ambassadors at Cayuga Sound Festival, FreshGrass or Kate Wolf Music Festival, The Whiskey Treaty Roadshow is the Swiss army knife of musical acts.
2019 is set to be a huge year for the band, who recently recorded their first full-length studio album with producer, Johnny Irion, featuring cameos by Steve Gorman of The Black Crowes and Pat Sansone of Wilco. The album titled "Band Together" is set to be re¬leased in January of 2020.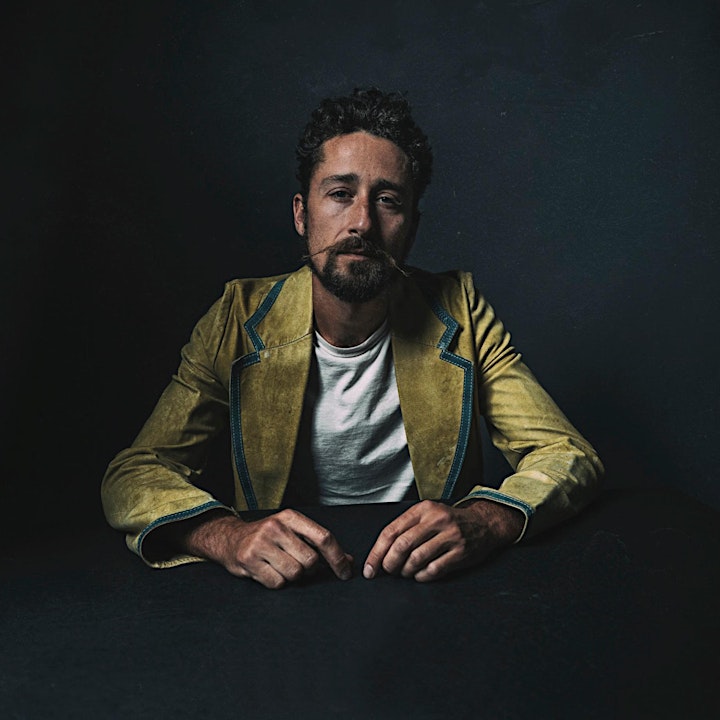 The latest album from The Suitcase Junket, Mean Dog, Trampoline is populated by characters in various states of reverie: leaning on jukeboxes, loitering on dance floors, lying on the bottoms of empty swimming pools in the sun. Despite being deeply attuned to the chaos of the world, singer/songwriter/ multi instrumentalist Matt Lorenz imbues those moments with joyful wonder, an endless infatuation with life. And as it's songs alight on everything from Joan Jett to moonshine to runaway kites, Mean Dog, Trampoline makes an undeniable case for infinite curiosity as a potent antidote to jadedness and despair.
Produced by Steve Berlin (Jackie Greene, Rickie Lee Jones, Leo Kottke) of Los Lobos, Mean Dog, Trampoline marks a deliberate departure from the self produced, homespun approach of The Suitcase Junket's previous efforts. In creating the album, Lorenz pulled from a fantastically patchwork sonic palette, shaping his songs with elements of jangly folk, fuzzed out blues, oddly textured psych rock. Engineered by Justin Pizzoferrato (Dinosaur Jr., Speedy Ortiz) and mixed by Vance Powell (Jack White, Houndmouth), Mean Dog, Trampoline rightly preserves The Suitcase Junket's unkempt vitality, but ultimately emerges as his most powerfully direct album so far.
Once upon a time, humans who lived in the mountains played songs about day to day life. It was raw and beautiful and sad and joyous; it reflected the people and the times. Eventually we invented radios and TV, and all Hell broke loose. We're far enough down the rabbit hole now where any more history just gets convoluted, so we'll simply say we do not play mountain music, but we do like it a whole lot and still think day to day life is a fine artistic space to explore. We also like rock and roll and didn't have cell phones until we were old enough to buy booze, which I think qualifies us as an "Americana" band, but I can't be sure. Hope to see you sometime...Hallelujah, I'm ready.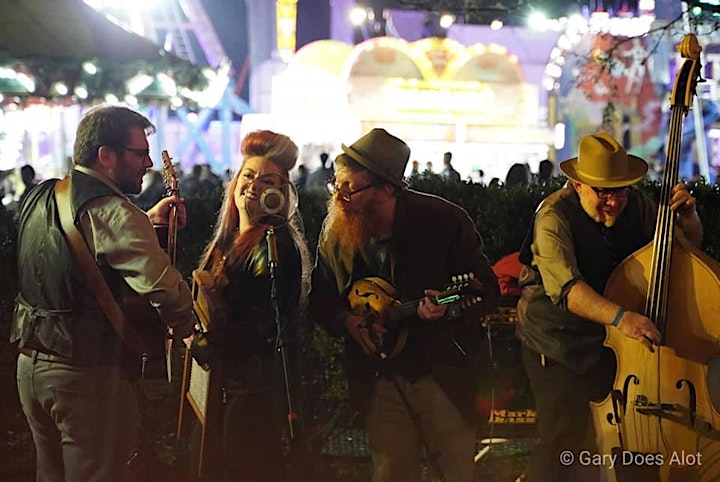 Venue Information:
The Haunt
702 Willow Avenue
Ithaca, NY, 14850